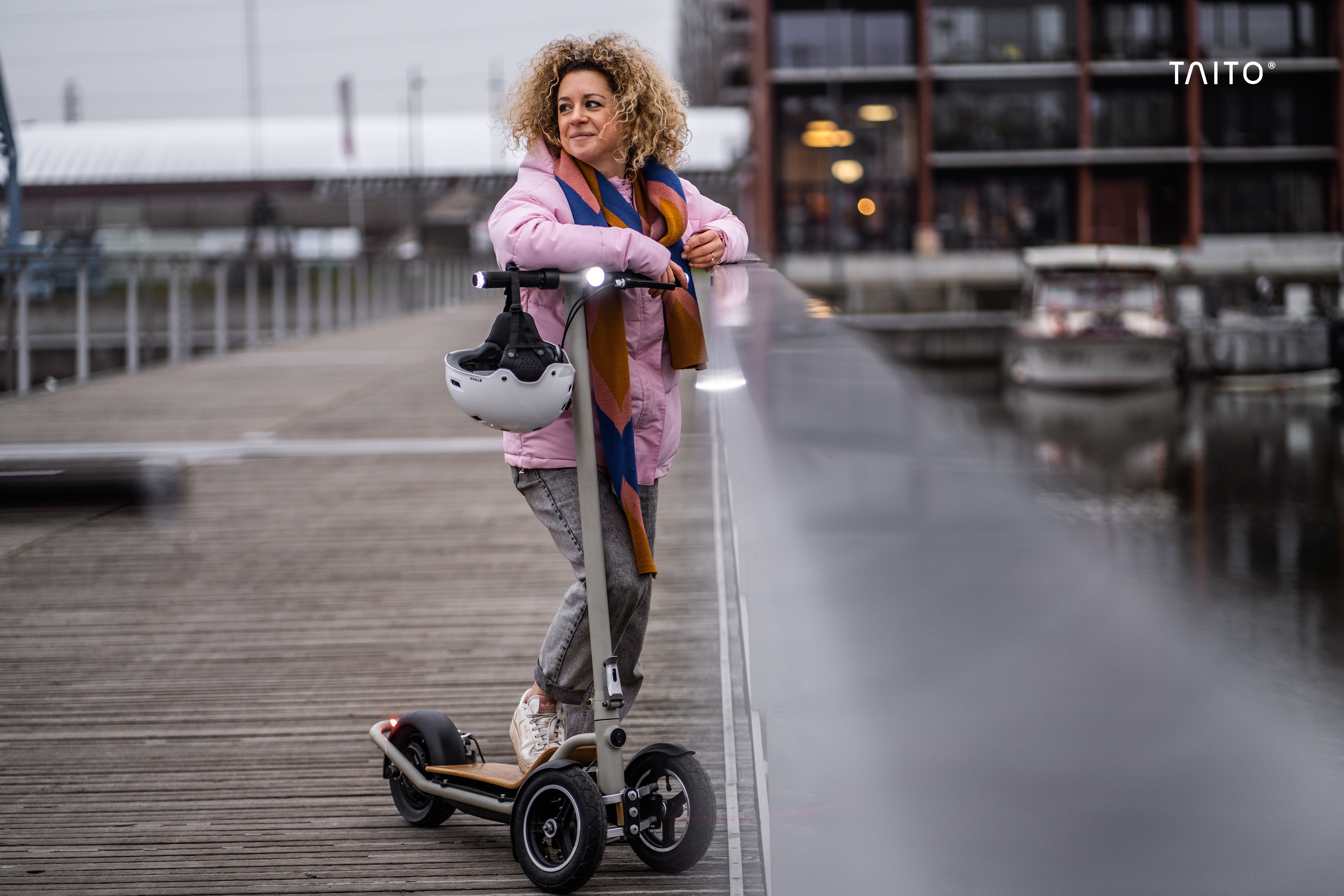 Belgian Start-Up TAITO Mobility & Veteran Accelerated Systems Inc. (ASI) Partner to Bring a Safer & Smoother eScooter to Market
Customer Successes | February 15, 2022
Research shows that current eScooter riders experience safety issues when navigating city traffic. With the goal of offering riders, a superior eScooter experience, TAITO developed a unique 3-three-wheel, floating deck, and proprietary suspension system eScooter. Now riders can have the most stable and comfortable ride, regardless of road or weather conditions.
The e-scooter market has grown considerably in the last years. A study from the Boston Consulting Group saw it rise from an estimated 3B $ value in the US and Europe in 2019 to a 30B $ value by 2030, a target it could reach sooner given the latest numbers. Together with the growing market, accidents have been on the rise as well. Vias, the Belgian institute for traffic safety determined the main reason for accidents to be instability due to uneven roads. From the start, the founders of TAITO François Desmet, Jules Dobbelaere and Nathan De Baets wanted to tackle this issue.
 "When I first drove around Brussels on an electric shared scooter, I experienced a fantastic feeling of freedom" says Jules. "An amazing way to swiftly get around the city. Until I got to a cobblestone road where I was met with fear. I thought to myself: 'There must be a way to improve these shortcomings'. And that is when Nathan and François came into the picture."  "We started with a three-wheeled design to increase stability" says François. "Then we developed a suspension system that allows users to tilt and turn the front wheels while also dampening road vibrations. The wooden deck is isolated from the frame with rubber studs which gives it a floating appearance. Not only does it look good, it also further dampens impacts for the rider. To further improve safety at night we integrated indicator lights and a rider light, which illuminates the back of the rider in bright red, to be visible from all angles."
A secondary, yet significant goal was to improve on the overall quality and reliability of the eScooter and with that in mind TAITO began their search for the right suppliers for each component for the TAITO eScooter. The motor controller is one of the most important as it determines the performance of the motor and battery, effectively acting as the "brains of the operation". 
It didn't take us long to realize that ASI would be the ideal supplier of our electric motor controller as they are the market leader for premium, customizable controllers. Their BACDoor™ Engineering software allowed us to program our motors with great precision, making the riding experience buttery smooth and battery efficient. Similarly, ASI technology enables us to offer multiple, unique rider "profiles" making the TAITO eScooter appealing to many different types of riders—those who want a sportier ride and those preferring a gentler ride.", said Francois.
Recognizing that range anxiety is a significant barrier for people to adopt electric mobility, TAITO took full advantage of the motor and battery efficiency that ASI controllers provide making it possible for them to deliver an eScooter that has a tested range of 30km on a single charge while weighing in at a slim 16kg.
"Over the years, ASI has worked with numerous eMobility manufacturers, either starting on their journey or expanding their product line.; each of them with a unique vision and set of challenges.  Our team is always very pleased to witness the excitement each of our customers express when they see, for the first time, our controllers realize their performance vision.  Some of today's best selling eMobility vehicles perform due to the hard work of our team of passionate, green-committed engineers.  They're proud to point to an industry favourite and say, "I worked on that'" said Claudia Demandt, EVP of ASI.  "Taito Mobility with its paradigm shifting eScootrers is one of those new entrants that our whole team put up their hand to work on. Great partnerships create great products"
The TAITO eScooter comes packed with numerous premium features including GPS tracking, theft prevention sensors, wireless phone charging, a built-in horn and an IP55 rating giving riders confidence to get around on their TAITO eScooter even in wet weather conditions.
About Accelerated Systems Inc (ASI):
Accelerated Systems Inc. (ASI) is a clean energy innovation company. We develop complete traction and control systems for vehicles. We have in-house design capabilities for electric motors, controllers, and battery systems. We specialize in autonomous controls and the electrification of equipment that is currently powered by internal combustion engines.
ASI's corporate office is located in Canada's technology center, Waterloo, Ontario. To learn more about ASI , visit our website, follow our LinkedIn page and subscribe to our YouTube channel.
Contact:
Janet Grondin, Marketing Manager
Accelerated Systems Inc.
jgrondin@acceleratedsystems.com
519-342-2507 ext.135
About TAITO Mobility
TAITO Mobility BV is a disruptive player in the world of micro-mobility with a mission to reinvent urban mobility. The company is headquartered in Ghent, Belgium and was founded in October 2020. The group focuses on premium eMobility products for end-users who often need to travel in cities combined with public transport or other means of transport. TAITO launches smart mobility solutions that stand out in terms of safety, durability, and quality. TAITO's first product is an innovative electric scooter that eliminates the unsafe and unsustainable offerings currently available. The company was founded by three founders, Nathan De Baets, François Desmet and Jules Dobbelaere.
Contact:
Nathan De Baets, COO TAITO
TAITO.be
Nathan@taito.be
+32 474133392