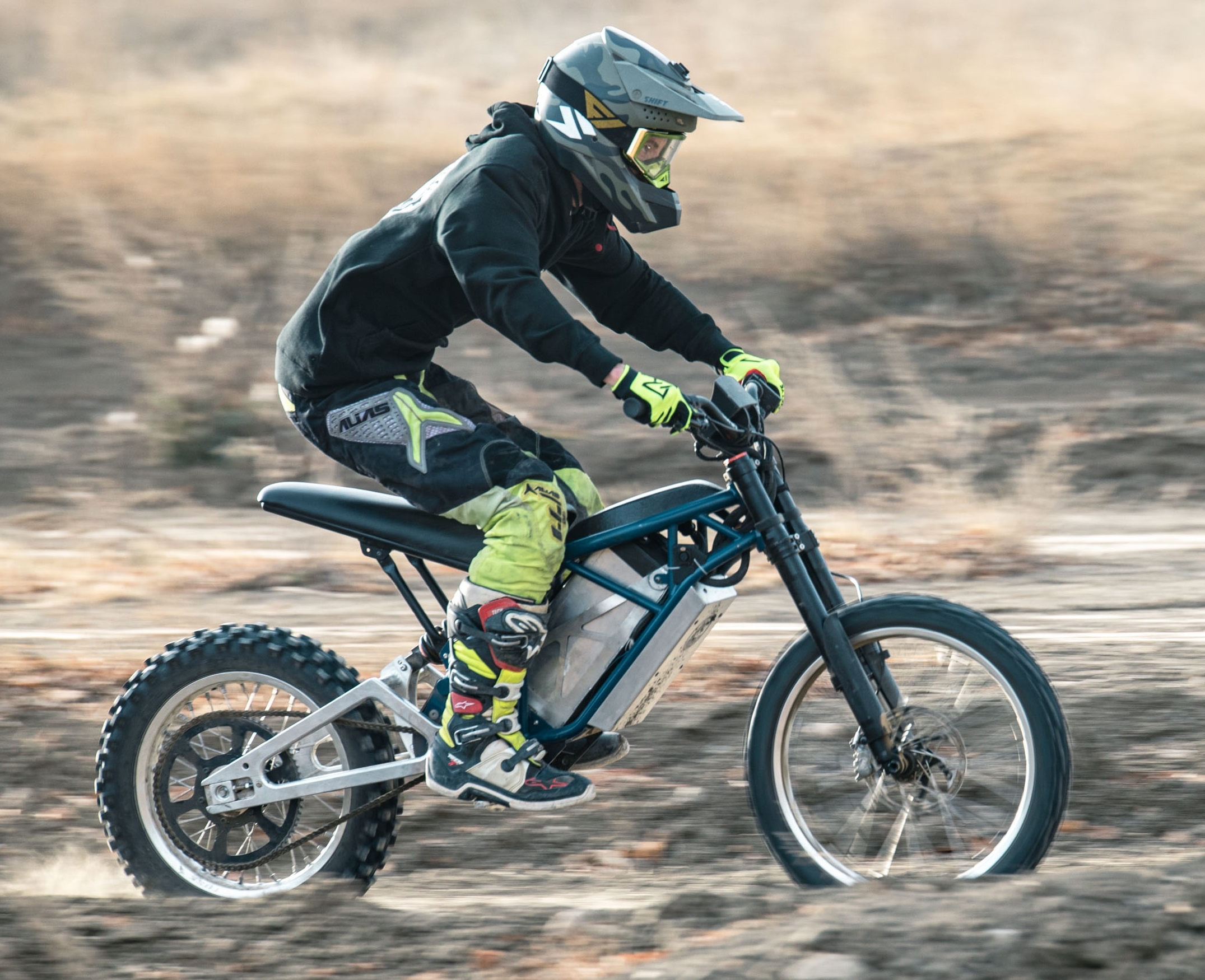 Accelerated Systems Inc. (ASI) And Armstrong Electric Vehicles (AEV) Collaborate To Develop The First Rear Brakeless eMotocross
Customer Successes | November 22, 2022
The eMotocross market continues to seek greener, electrified alternatives to gas-powered motocross bikes.  AEV and ASI are responding with eMotocross bikes like the XR-E powered by ASI's unparalleled BAC8000 electric motor controller.  "The market wants to go greener and quieter, but still wants to do it with the same intensity of acceleration and top speed. With that as a key goal, we knew we had to go with ASI's BAC8000 controller to power our bike.," said Nathan Armstrong, Founder and President of Armstrong Electric Vehicles.  Armstrong, a long-time motocross enthusiast himself, knows firsthand that speed and acceleration were only half the puzzle and that range, or length of time between charges, would also significantly impact riders' confidence to switch to an eMotocross bike.
Singularly unique to the XR-E is that it's the first eMotocross not needing a rear hydraulic brake, a feature made possible through the regen braking capabilities of the ASI BAC8000.  Instead of using a disc brake, all rear braking is done by the motor and ASI controller using a proprietary 3D printed stainless steel electronic brake lever.
"The drivetrain is designed to maximize the technology in the ASI BAC8000 controller. With no transmission to backdrive, all of the energy is available for regen braking which maximizes the energy recovered plus allows the controller to directly affect the behavior of the rear wheel. Without the features incorporated into the ASI BAC8000 controller, this range enhancing capability would not be possible.", said Armstrong.
While there are other longer established competitors in the eMotocross space, the XR-E represents the first Canadian made option and coming in at a sticker price of $12,500 Canadian (approximately $9,400 USD) the XR-E offers motocross enthusiasts a viable alternative without sacrificing performance.
The XR-E is a ground-up design that represents a perfect balance of weight, power and capability. Weighing only 150lbs it's light and compact, yet pushing over 15,000 Watts of peak power and over 140Nm of rear wheel torque, the bike provides instantaneous power enough to tackle any terrain. The bike offers a comfortable ride for all sizes thanks to the adjustable seat, foot pegs and handlebars and there are three ride modes plus reverse. The frame is handcrafted from 4130 CroMoly Steel and has a lifetime guarantee.
Performance videos, created by US distributor Charged Cycle Works owner, Brian Lampright show the XR-E pouring on the power yet barely cracking a sweat.
ASI is a forward-thinking organization with a singular focus, to propel the electric vehicle market to new levels of performance and user experience.  All of us at ASI share a strong passion for personal electric vehicles, the environment, and the pursuit of innovative solutions", said Adam Micklin, Director of Sales, "and the XR-E  by AEV is sure to be the first in their family of Canadian made eMotocross bikes powered by ASI's innovative electric motor controller solutions."
About Accelerated Systems Inc (ASI):
Accelerated Systems Inc. (ASI) is a clean energy innovation company. We develop complete traction and control systems for vehicles. We have inhouse design capabilities for electric motors, controllers, and battery systems. We specialize in autonomous controls and the electrification of equipment that is currently powered by internal combustion engines.
ASI's corporate office is located in Canada's technology center, Waterloo, Ontario. To learn more about ASI , visit our website, follow our LinkedIn page and subscribe to our YouTube channel.
About Armstrong Electric Vehicles (AEV):
Armstrong Electric Vehicles is a Vehicle Manufacturer based in Southern Alberta specializing in electric off-road
vehicles. https://armstrongelectricvehicles.com/ Our sister company, Armstrong Custom Fabrication engineers and builds custom vehicles for a variety of clients. https://armstrongcustomfabrication.com/